Series Mania+ is committed to reduce its digital footprint
Today, Series Mania is pursuing its CSR commitments by extending its actions to the Series Mania+ platform. In this way, Series Mania wishes to control its digital footprint and accompany the public and professionals towards practices that better take into account the challenges of the ecological transition.
How ?
The platform's contents are produced, distributed and stored in a more responsible way without damaging the experience of our viewers.
Together !
Viewing on Series Mania+ can be adjusted by users without compromising quality by optimising videos and content.
Our commitments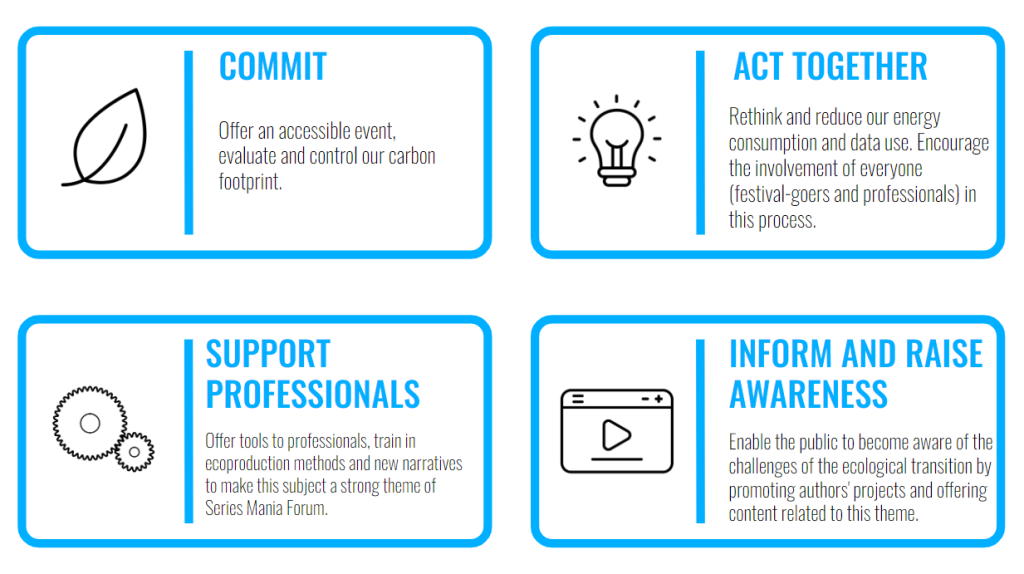 Series Mania, more responsible
In our platform
Optimisation of images: use of webp formats that consume less while guaranteeing good quality;
Video that appears only once (on first entry to the platform) to limit unnecessary viewing ;
Use of less server resources with caching;
Smoothing of recordings at 720p to reduce the image quality of certain content in order to reduce the file size (e.g. conferences);
Optimization of the user experience, go through fewer pages to access your content;
Enable backwards compatibility (480p) so that you can extend the experience even on older devices;
Dark website to reduce the energy used on end-user devices.
Our lines of development
Make our roadmap public, especially concerning cold storage;
Obtain a quality label to certify our more responsible digital commitments.
Our partners
Because you don't go it alone: to structure its approach and multiply its impact, Series Mania is is supported by leading players. In 2023, ENEDIS became the first CSR partner of Series Mania. For the structuring of its actions and its ISO 20121 certification, the Series Mania festival is associated to Ipama.
Beyond the material impacts, the festival also mobilises the whole ecosystem on the conception of stories to promote new ways of living. Especially through the Lille Dialogues day entirely dedicated to the ecological transition, created in collaboration with Imagine 2050.